Evolution
At the dawn of skydiving, we jumped round canopies and impacted the ground vertically. Ram-air wings were the first major canopy flight innovation, finally allowing us to flare and land with more finesse, but still in the same old vertical hanging position. Around that time, paragliders emerged and took the game to the next logical level by putting the pilot in a seat, with the wing attachment points at their hips. This positional shift makes use of pilots' weight for roll and yaw control, and additionally provides the aerodynamic advantage of a body position capable of affecting drag, and therefore speed and pitch, all without ever touching toggles! This  made insane advances in performance possible and gave birth to the acrobatic element of the sport. 
Antoine Montant, a pioneer of this discipline, became friends with Vince Reffet and Fred Fugen. The challenge was born to create a similar harness suitable for skydiving. This revolutionary system has been developed over ten years, through extensive research and design collaboration with Vince, Mark Procos and Bikkies Blignaut of UPT, along with Ian Bobo from the PD Factory Team. The result is a true canopy flight powerhouse that meets the needs of jumpers who enjoy freeflying as much as swooping, in one dynamic container.
Technical
The Mutant is a Micron on steroids. In free-fall you have access to all your tried-and-tested features. After opening the main, you can release the upper 3-rings to transition into flight-mode and start flying from your hips. Alternatively, The Mutant can be landed as a traditional skydiving rig, without converting to flight-mode. There are various options available when ordering your Mutant, whether you plan on using the rig solely for hop-and-pop canopy piloting or in free-fall, as well. 
The canopy flight and sight picture of the Mutant in flight-mode will be a new experience in control and agility. Pilots will require extra awareness during their initial jumps as they transition to flight-mode and adjust accordingly. The Mutant is not for every jumper. The adjusted emergency procedures and added performance envelope demand experience and training. 
The Mutant is suitable for a relatively small pool of potential users, as to safely fly a Mutant (and to be permitted to use a Mutant) one must either be an experienced paraglider/speed flier, an advanced canopy pilot, or both. The Mutant can also be used by a physically impaired experienced canopy pilot who is seeking a modified landing position. 
Performance
swooping | free fall
The Mutant is an ideal tool to advance the discipline of canopy piloting. Whether screaming across a pond or flying near terrain,The Mutant places you in the most efficient position.
If you want to have your cake and eat it, too, we've got good news. The Mutant can be used on terminal free fall jumps. We have athletes flying their Mutants at high speeds and on all axis in free fall before opening and transitioning into the more ergonomic flight-mode. It's a rig built for those of you who want to swoop the pond after nailing your next vertical record.
Options
Let's talk about those options:
Currently the sizes the we offer for the Mutant are: 303, 304, 305, 307, 310, 314, 316 and 319
Please follow this Canopy Sizing Chart for more information.
Risers
The standard length of risers offered with the Mutant are 30".
Here are the reasons: Longer risers make for easier/safer packing as otherwise the toggles are almost out of the riser covers and there is excess line close to the bottom of the reserve tray. This would be similar to a 21" riser in a standard Micron.
Longer risers, 33 or more: For those pilots with longer arms that are happy with the performance and prefer to keep their rig tidy for free fall. This would be similar to a 23-25" riser in a standard Micron.

Shorter risers, 27" or less: Some competition canopy pilots are opting for shorter risers for the change in performance (more sensitivity), they tend to not free fly with their Mutants.
The Mutant is delivered without dive loops, standard dive loops can be added at no extra charge. Louie Loops are available as an add on option. 
Bottom of container
We offer 3 options:
the standard boxed corner

dynamic WS corner

'old style' WS corner.
Your choice will depend upon how you want to use your rig. 
If you intend to use your Mutant for canopy piloting competition and you want to make absolutely sure that those corners are open on deployment, then we would recommend the dynamic WS corners (this is especially true for high pack volume, high performance main canopies usually consisting of cross braced sail material, during sub terminal openings).
If you plan on taking your Mutant into free fall,  in order to maintain pressure on the main handle we recommend the regular corner or the 'old style' WS corners. The 'old style' WS corners are standard corners that are not stitched all the way up (about half way) which allows a more open container for those high pulls or XRW.
Seat Pad Materials
Free fall
Standard
Ballistic
If you plan on using your Mutant more for free fall purposes, we offer a softer, more malleable solution for harness protection with the same support for supine flying.
We always recommend that you aim for a soft landing but, if you are a competition pilot and you know that there is going to be some wear and tear, we offer a 'Ballistic' seat pad.
Seat Pad Sizing
Standard Length
+1 length
+2 length
+3 length
We all have slightly different size bodies and therefore we offer a standard length seat pad as well as 3 progressively longer options to help you find the right fit for the way that you fly. If you have previous supine experience, we recommend going for the longer seat pad straight away. We find most average height pilots are comfortable with the +2 length option.
Hook Knife
The standard option will be on your chest strap, we also offer an add on option for your leg strap.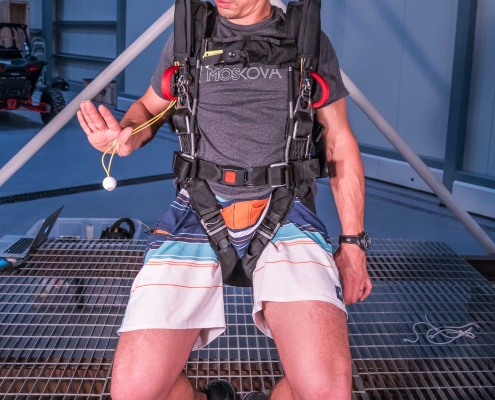 1
Easy ball release method to transition from freefall position to flight mode
2
Seatbelt style belly band. This will be unclipped when transferring into seated flight mode position.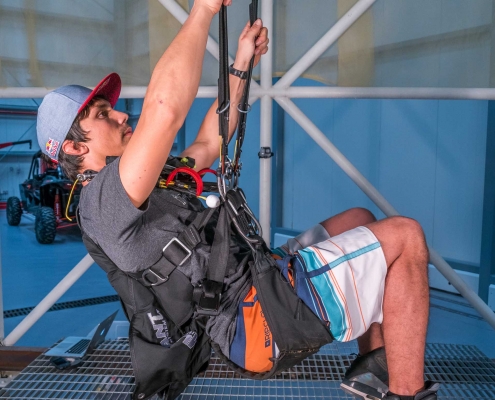 1
Risers are connected from the hip joint for more sensitive harness input
2
Seated back in the harness, with legs outstretched in front
3
Cutaway and reserve handles are higher up on the harness, so users will need to familiarize themselves with their EPs
4
Ball release to convert from freefall orientation to flight-mode
Mutant System: $3,800
The process of obtaining one of these systems starts by completing  an application and waiver here:  Mutant Application.  
If your application is approved, you will submit an order form and  be paired with one of our global Mutant Ambassadors in your region through Flight-1. 
From there, Flight-1 has developed a Mutant training program to first establish whether a pilot is safely ready to fly the Mutant harness, and subsequently train qualified pilots how to properly use the system. This training program has been launched in conjunction with the system. Once your Flight-1 Coach and Mutant Ambassador determine that you are ready to participate in this program, your Mutant will be produced and you will be scheduled to start training on it.
Yes, the opportunity to try one of these beasts is now possible! We will be holding demo weekends in various locations. If you meet the requirements, during this event you will be fitted into one of our demo Mutants and receive the necessary training from a Flight-1 Mutant Ambassador to prepare you for flight. From there you can take on the Mutant and make your own assessment. If you are fully Mutated and decide you would like to order, the cost of the demo event will be deducted from the price of your Mutant.