Introducing the Mutant Harness Container System by United Parachute Technologies! "What is a Mutant?" you might ask. Well, quite literally, a mutant is something that has undergone mutation or change.  In this case, the Mutant is a harness container system that has been restructured to maximize performance in canopy flight.
Unlike the harness container systems we are all familiar with, the Mutant suspends the pilot in a more efficient flying position, known as the supine position.  This position is more similar to how the pilot is suspended in a paragliding harness, sitting back, with feet outstretched in front of him or her. This position reduces drag, thus allowing for more speed and more range. Further, the supine position is a much more relaxed and comfortable position to be in in the harness.
By changing the points at which the risers connect to the harness, the Mutant system allows for increased range and sensitivity in the roll and yaw axes (see diagram for clearer understanding of these axes).  This allows for significantly different flight characteristics when making turns compared to a standard harness configuration. As a result, flying the Mutant harness container system requires less use of front and rear risers, which allows for a smoother wing shape, and therefore more efficient flight. To adjust the pitch, the pilot simply leans forward or lays back in the harness.
So why call it The Mutant?
The concept for this harness system originated in the early 2000's when Fred Fugen and Vince Reffet were spending their winters in Val Frejus, France learning how to speed ride.  For those unfamiliar with speed riding, it is a sport that combines skiing and speed flying – essentially flying with skis on your feet so you can periodically touch down to ski a couple turns and then take off again. One of their mentors was Antonine Montant, who was a pioneer in the sport of speed riding, as well as one of the best acrobatic paragliders of the era. Montant, or "Mutant," as he was aptly named due to his extraordinary abilities, questioned why skydiving harness design was not more similar to that of paragliding harnesses. Since "Mutant" was the inspiration for the concept, it seemed fitting to name the system after him.
By 2008, this concept started to become a reality. Vince began with testing a harness that could be jumped in congruence with a regular container, and still achieve the supine position. The disadvantage of this early prototype was that it was a cumbersome addition to an existing container, and required an inverted deployment position. This is when he sought out the help of Mark Procos and Blikkies Blignaut of United Parachute Technologies (UPT). In 2010, a partnership was established to explore the design of a system that could be deployed in a normal freefall position, and also be relatively simple to shift to supine "flight-mode." Many years, test jumps, prototypes, drop tests, and hours spent hanging in the harness later, the Mutant was born.
Shortly thereafter, Ian Bobo of Flight-1 & the PD Factory Team got involved to help adapt and proof the system in competitive canopy piloting, and has been performing world record challenging speed and distance runs at competitions around the globe. Ian's contributions and participation in the Mutant project have proven the potential for the supine harness style as the future of canopy piloting. In addition to testing the harness, Ian, along with help from Vince and other contributors to this project, has developed a Flight-1 training program that will be used to teach jumpers how to safely use the Mutant harness container system.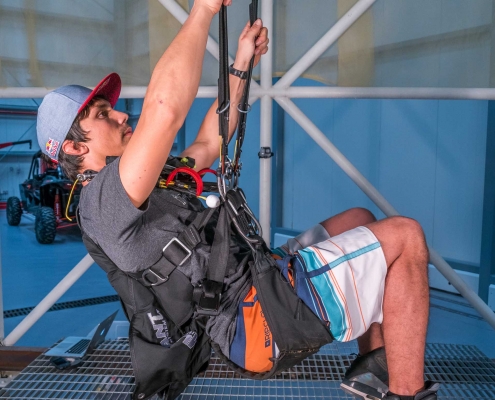 1
Risers are connected from the hip joint for more sensitive harness input
2
Seated back in the harness, with legs outstretched in front
3
Cutaway and reserve handles are higher up on the harness, so users will need to familiarize themselves with their EPs
4
Ball release to convert from freefall orientation to flight-mode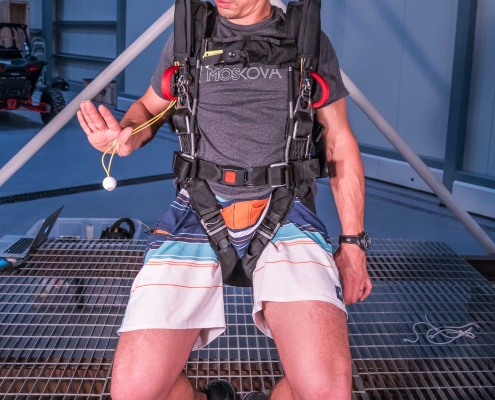 1
Easy ball release method to transition from freefall position to flight mode
Can this be jumped in freefall?
The Mutant harness was developed to be a modification to your everyday freefall harness container system. A lot of design and testing went into creating a system that can be safely deployed in freefall in a standard deployment position, and then easily shifted into "flight mode."  Fred Fugen and Vince Reffet jump a Mutant on all of their freefall jumps. The Mutant can even be landed without converting it to flight-mode. The cutaway and reserve procedures remain the same as they are on standard freefall containers, but the pilot will need to familiarize him or herself with the location of the handles, as they sit higher up on the harness than on a standard container. Additionally, the canopy flight and the sight picture will be different from normal harness container systems, so the pilot will need to adjust accordingly.  If you are planning on only jumping your Mutant for canopy piloting, not freefall, then you also have the option to get your container without secondary riser covers.
Who might want a Mutant?
The Mutant harness caters to a relatively small pool of potential users, as to safely use a Mutant (and to be permitted to use a Mutant) one must either be an experienced paraglider/speed flier, an advanced canopy pilot, or both. If you meet those requirements, then the following items are possible reasons for you to obtain a Mutant: highly experienced paragliders/speed fliers seeking a more similar harness feel and responsiveness, competitive canopy pilots hoping to increase speed or range, XRW pilots, or physically impaired experienced canopy pilots who need a modified landing position.
How to get one:
So you read this article and have decided you NEED to get your hands on a Mutant. What next? The process of obtaining one of these systems starts by filling out an application and waiver here: Mutant Application.  If your application is approved, you will submit an order form and will be paired with one of our global Mutant Ambassadors in your region through Flight-1. From there, Flight-1 has developed a Mutant training program to both establish whether a pilot is safely ready to fly the Mutant harness, as well as train qualified pilots how to properly use the system.  This training program is being launched in conjunction with the system. Once your Mutant Ambassador determines that you are ready to participate in this program, your Mutant will be produced and you will be scheduled to start training on it.  Currently, there is not a way to demo a Mutant without going through this program.