The best system for Instructor and Student
Through years of development and testing, the Sigma series of Tandem equipment is now the best and safest Tandem system we've ever produced.
The comfortable harness and head-high free-fall position are great for the Instructor, and our Student harness is the most sophisticated and comfortable money can buy.
Superior pin protection, retractable release handles, user-friendly component replacement and our Patented Disc Release system are just more ways that put us ahead of the competition.
Your brand new Sigma, or Micro Sigma, Tandem system comes loaded features, including: adjustable student harness, Magnetic Riser Covers, adjustable container harness, Double Wide Legpads, Retractable Release Handles, Spectra Reserve Ripcord, Reserve Pin Window, and our Skyhook RSL.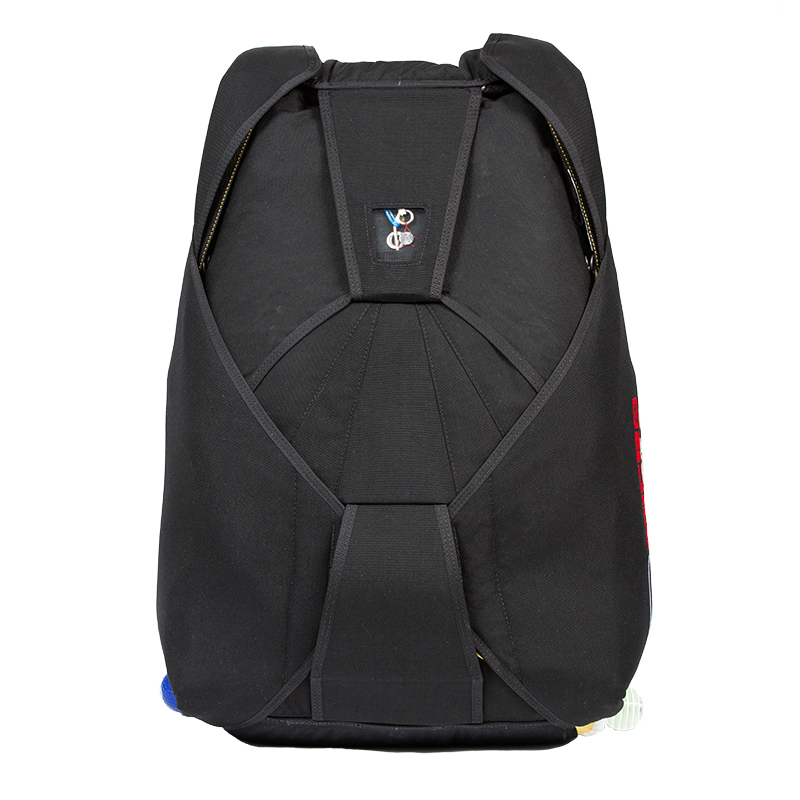 1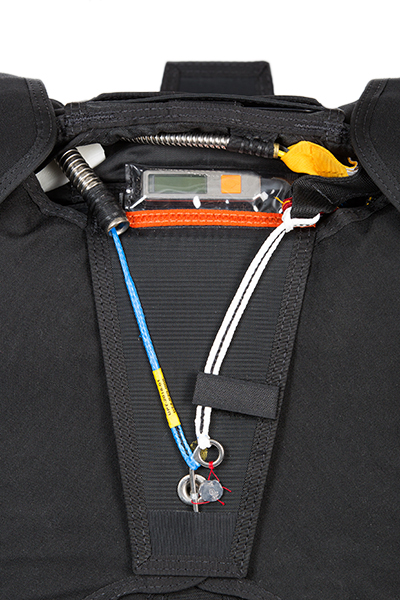 The Automatic Release Lanyard is now incorporated into the RSL. If the RSL side riser breaks, or releases by itself for any reason, this feature will automatically release the other riser, thus preventing a main-reserve entanglement.
2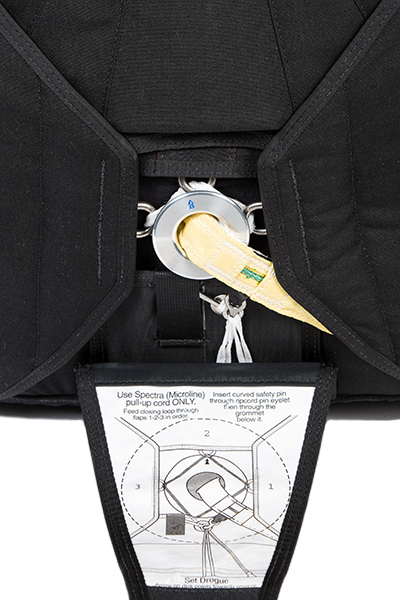 A special safety pin prevents premature container openings if release handles are accidentally pulled prior to drogue deployment. This pin is automatically extracted once the drogue is deployed, thus arming the drogue release handles.
A diagram on the inside main pin flap makes it easy for anyone to do a pin check while inspecting the new disc drogue release.
3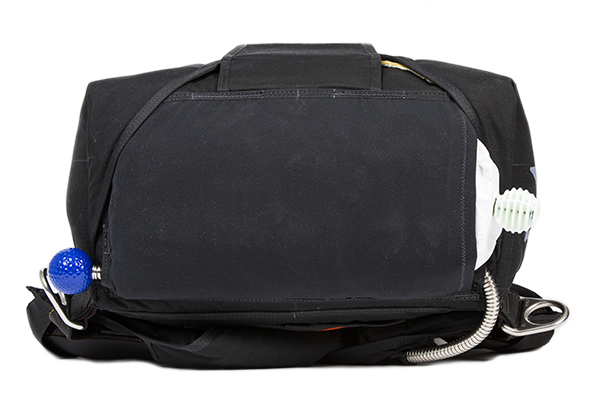 Super clean design of the new drogue pouch eliminates the need for velcro or tuck tabs. Packing is quicker and trouble free.
The drogue bridle is completely covered. But even if you accidentally snag the drogue bridle, it will not open the main container.
Both left & right handles for drogue release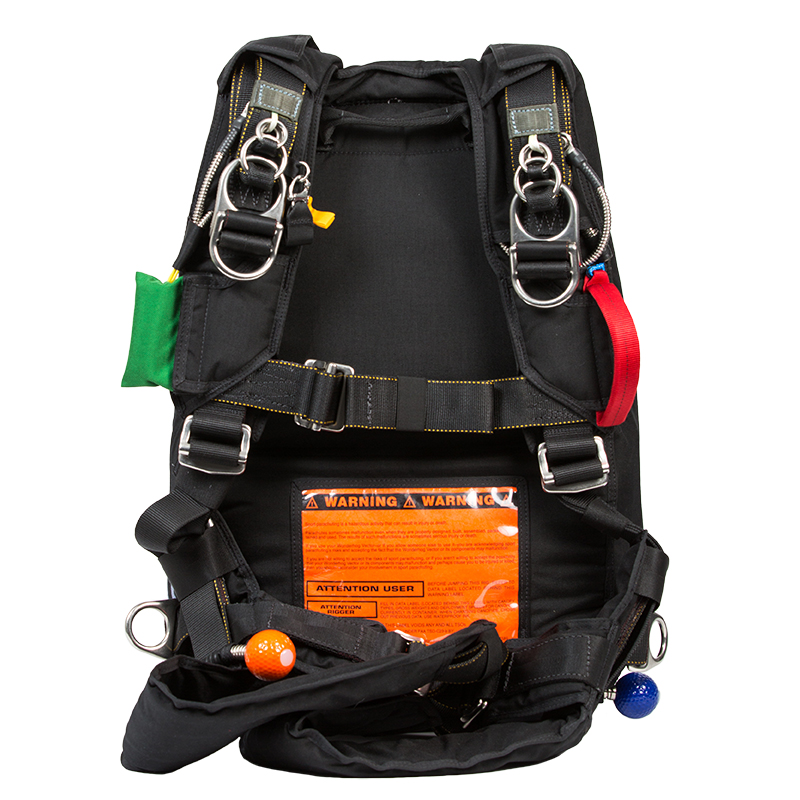 1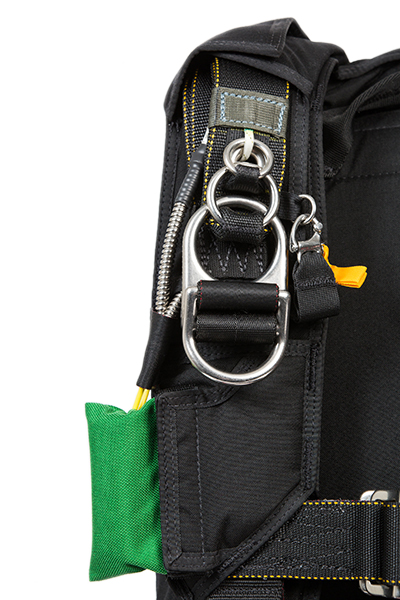 The RSL, with its Tru-Lok pin, is designed so that only a hard, straight-up pull will cause a left side cutaway and reserve activation, greatly reducing the chance of accidental functioning.
We believe that you should be able to activate your reserve with either hand. So our RSL is designed to also function as a right hand reserve ripcord, in the event that the standard left hand reserve ripcord cannot be reached, becuase of injury or student interference.
3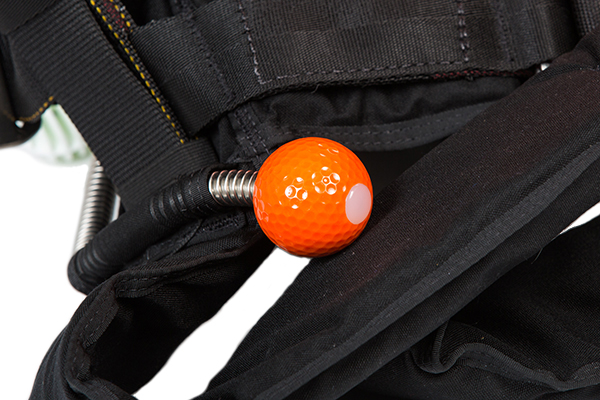 The right drogue release handle is conveniently positioned on the upper right leg strap to simulate a BOC deployment for the student. Its permanent position eliminates the worry of relocating it on each jump, or the possibility of being accidentally dislodged.
Disclaimer:
*Due to color variances among monitors the colors that appear on your screen may not be exact. Please see your Dealer for color swatches.
*Kryptek Corduras (Mandrake, Highlander, Typhon and Raid) all have KRYPTEK logos "ghosted" in fabric that cannot be removed or replaced and are completely random within the pattern.